Article
Rumah Tunggu Closing Access Gap to Save Mothers, Newborns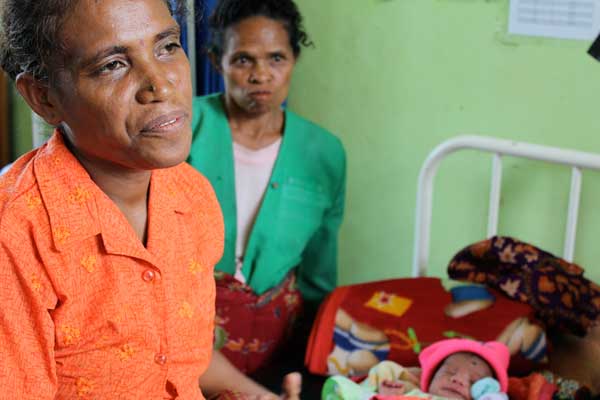 Jeri Taneo uses the rumah tunggu facility
for safe birth
Two mothers gave birth few hours before on that day in mid February. Both came all the way from villages tens of kilometers away from the community health center or Puskesmas in South Amanatun subdistrict.
One of the happy mothers, Jeri Taneo, said that she was accompanied by her mother-in-law to the Rumah Tunggu two days before. Trip from her village to the Rumah Tunggu, which was situated right next to the Puskesmas was quite tricky; a combination of walking and getting into public transport.
Well-constructed roads remain a luxury in the remotest, high land Amanatun area in Timor Tengah Selatan district. Rocky and potholes-filled dirt road is prone to landslide as the road circles around nearly barren hills.
Rumah Tunggu is a house with bed, pantry and bathing/washing facility where expecting mothers can stay until their labor. Family members usually accompany the mothers. Amanatun Puskesmas' Rumah Tunggu has four beds, a kitchen and two bathroom/washing rooms.
In her late twenties Jeri gave birth to her third child. In her broken Bahasa Indonesia she said that she wanted to have safe labor and recovered soon so that she would be able to return home to tend her house.
It may sound like a simple wish but to health workers in the area it took years to instill such demand to women -- and men that expecting mothers must survive the hardest yet most excruciating moment during labor.
The district has relatively enjoyed services provided to mothers and babies. Maternal and neo natal mortalities have significantly reduced, particularly those related to preventable deaths.
Nationwide, East Nusa Tenggara (NTT) is one of top five contributors of maternal mortality. Efforts are ongoing to reduce the number. Many consider Rumah Tunggu initiative a breakthrough to bring health facility closer to the mothers living in villages with geographic challenges like NTT.
Midwife and head of the South Amanatun Puskesmas Yustina Bria admitted data was not something they could provide but as far as she remembered there was only one fatality in the past two years.
"She was drowned in a river as she was taken to cross the river at midnight during a heavy downpour," said Yustina.
"It was too late for her to get health service. That is one of the reasons for us to have more Rumah Tunggu here."
"When they (mothers) come here they must return home safely with their little ones."
The Rumah Tunggu facility was initially a support provided by Australia Indonesia Partnership for Maternal and Neonatal Health (AIPMNH). During the interview some members of the community, men and women, were seen volunteering to build another one near the existing house.
"Now people realise the need to have better and more facility. Local government has also committed to allocate budget for volunteers tending the Rumah Tunggu. Although the amount was relatively small but we're grateful for the initiative," Yuliana said.
Health sector has been taken seriously by local administration. Strong patriarchal culture was one important hurdle in delivering good health services to mothers and their newborns. To break the deep-rooted patriarchal tradition, local administration imposes a fine to heads of the families if they failed to send their expecting wives to health facilities before labor.
"We have seen the difference. Sometimes we get so overwhelmed with the number of mothers visiting for pregnancy checkup and deliveries. But all works are paid off if we see them off leaving Puskesmas with their babies in their arms," Yuliana said.
More on maternal and neonatal health program visit www.aipmnh.org