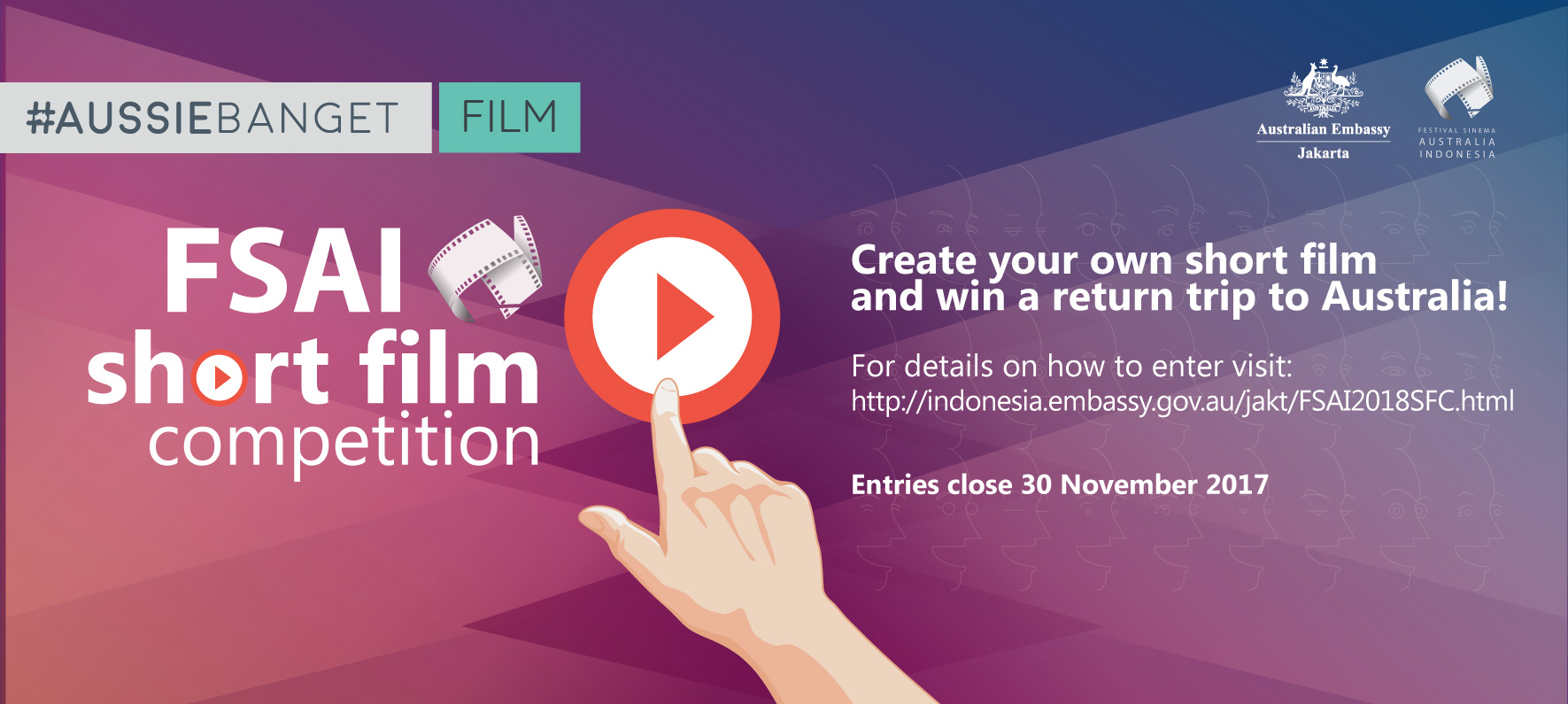 The second year of the Festival Sinema Australia Indonesia (FSAI) Short Film Competition 2018 is free of charge and open to Indonesian public (students, professionals, film enthusiasts). Each film can be submitted by an individual or by a team. Multiple entries from individuals or teams are permitted, but each submission must be registered separately.
Submission
Submissions must be an original film of the submitter that can be any genre, including documentary, animation, horror, comedy, and drama. The film must be up to 15 minutes in length, produced in 2016 or 2017, and have English subtitles if in Indonesian.
Please read the competition's Terms and Conditions for more details. All submitters are required to read and agree.
If an error occurs, contact and submit to sinemaozid@gmail.com
Shortlists
A panel of experts will select the shortlist for screening as part of the Australian Embassy's Festival Sinema Australia Indonesia (FSAI) in January 2018. The Grand Jury are looking for films that are a high quality original film. The film should not infringe copyrights or include trademarked images. It must not consist of hate speech, explicit language, pornographic, violent, or sexual content, racial, religious, cultural and political sensitive matters.
Grand Prize
The grand prize winner will receive return airfares and up to one week of accommodation in Australia to attend the Melbourne International Film Festival (MIFF) 2018
People's Choice Prize
The People Choice Prize will be chosen through a public voting mechanism conducted at FSAI 2018 screenings in January 2018. Public will be able to choose their favourite short film, and the winner to this prize will receive a camera.
No correspondence will be entered into regarding the FSAI Committee's decisions and final decisions of the Grand Jury.
FSAI 2018 timeline
Road to FSAI 2018
FSAI 2018 Short Film Competition Launch
FSAI 2018 Short Film Competition Submission
FSAI 2018 Short Film Competition Shortlisting
FSAI 2018 Short Film Competition Finalist
FSAI 2018 (Jakarta, Makassar, Bali, Surabaya)

September-November 2017
5 October 2017
5 October-30 November 2017
1-15 December 2017
18-20 December 2017
25-28 January 2018
Contact Us
For enquiries contact cultural.jakarta@dfat.gov.au with the subject line "FSAI Short Film Competition 2018-(EMAIL SUBJECT)"