Media Release
23 June 2014
FCACheartsJogja: an Australia-Indonesia collaboration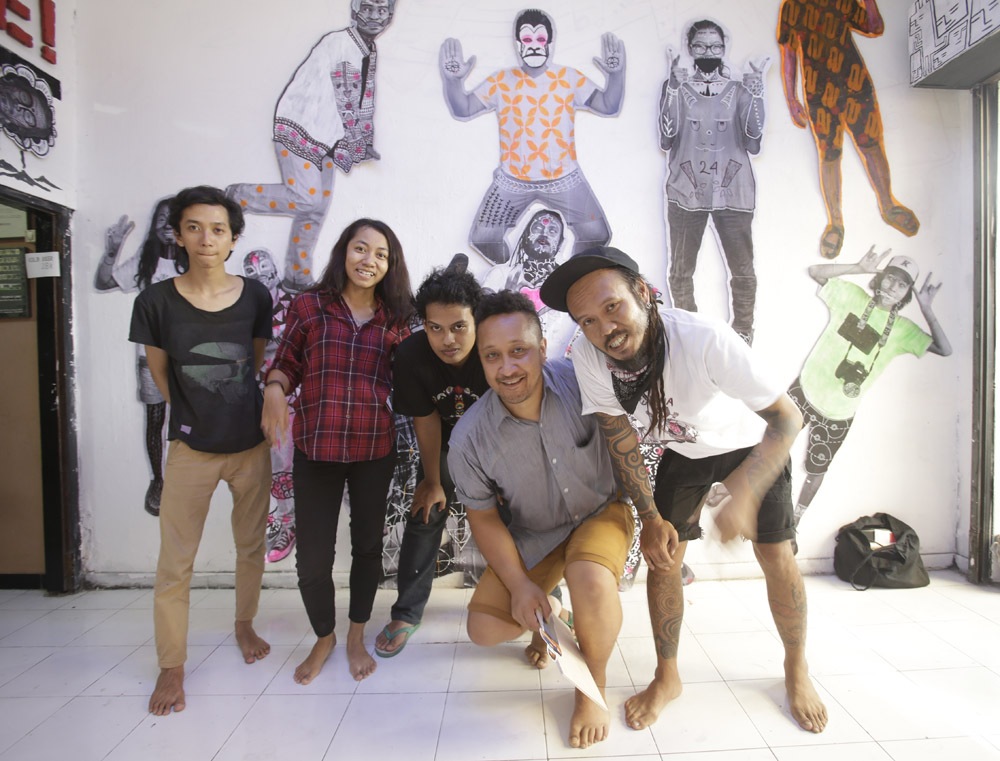 Some of the artists involved in Pacific Motifs Youth Paste Up at SURVIVE garage.
Two more elements of an exciting artistic collaboration between Australia and Indonesia are now open to the public in Yogyakarta as part of the embassy's Arts and Cultural Program 2014.
A partnership between the Arts and Cultural Program and Australia's Footscray Community Arts Centre (FCAC), FCACheartsJogja has now expanded to include Pacific Motifs Youth Paste Up in Bantul and Exquisite Corpstallation at Ace House Collective. This follows the opening of the exhibition Meleponi Pasifika in Yogyakarta earlier this month.
Pacific Motifs Youth Paste Up is the result of a two-day workshop in which young artists worked with Yogyakarta's SURVIVE Garage and artist Jacob Tolo from Australia. The young artists were inspired by motifs and designs from the Pacific to create their own unique designs and patterns.
Exquisite Corpstallation is an installation of collaborative art works built over 10 days by members of five arts collectives in Yogyakarta and seven Australian artists. The works on display are the artists' response to themes set by each team. The participants include: Ace House Collective and Salote Tawale; Krack Studio with Heather Horrocks and Bo Svoronos; Kunci Cultural Studies Centre with Alia Gabres and Marnie Badham; and Setu (Hestu) Lagi with Taloi Havini.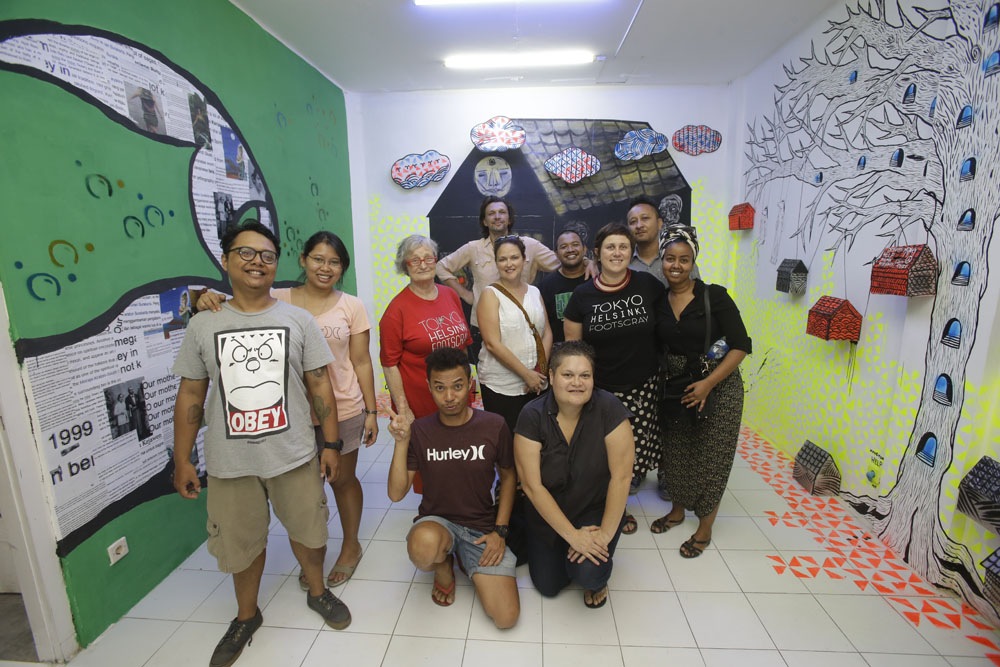 Exquisite Corpstallation is opened for public at Ace House Collective Yogyakarta.
The Australian Ambassador to Indonesia, Mr Greg Moriarty, said FCACheartsJogja was well-timed to take advantage of the focus on Yogyakarta during ArtJog.
"Eyes are on Yogyakarta right now for ArtJog, which attracts art lovers from across Asia and the Pacific. This is a great opportunity for us to focus attention on the creative collaborations involving Australians and Indonesians," Mr Moriarty said.
"Fostering cultural exchange and creating new personal and professional relations between our two nations is an important element of the embassy's cultural diplomacy strategy.
"FCACheartsJogja is an outstanding example of what a cross-cultural creative collaboration can achieve," he said.
Director and CEO at FCAC, Ms Jade Lillie, said FCACheartsJogja was a wonderful model for artistic collaboration between Australia and Indonesia.
"We make work together and develop long-lasting relationships that are intercultural and internationally relevant. We are looking forward to welcoming artists from Yogyakarta to Melbourne later this year at part of the next stage of the project," Ms Lillie said.
Pacific Motifs Youth Paste Up is on show at SURVIVE Garage, Jalan Bugisan Selatan no.11, Bantul until 24 June. Exquisite Corpstallation can be seen at Ace House Collective, Jalan Mangkuyudan 41, Yogyakarta until 2 July.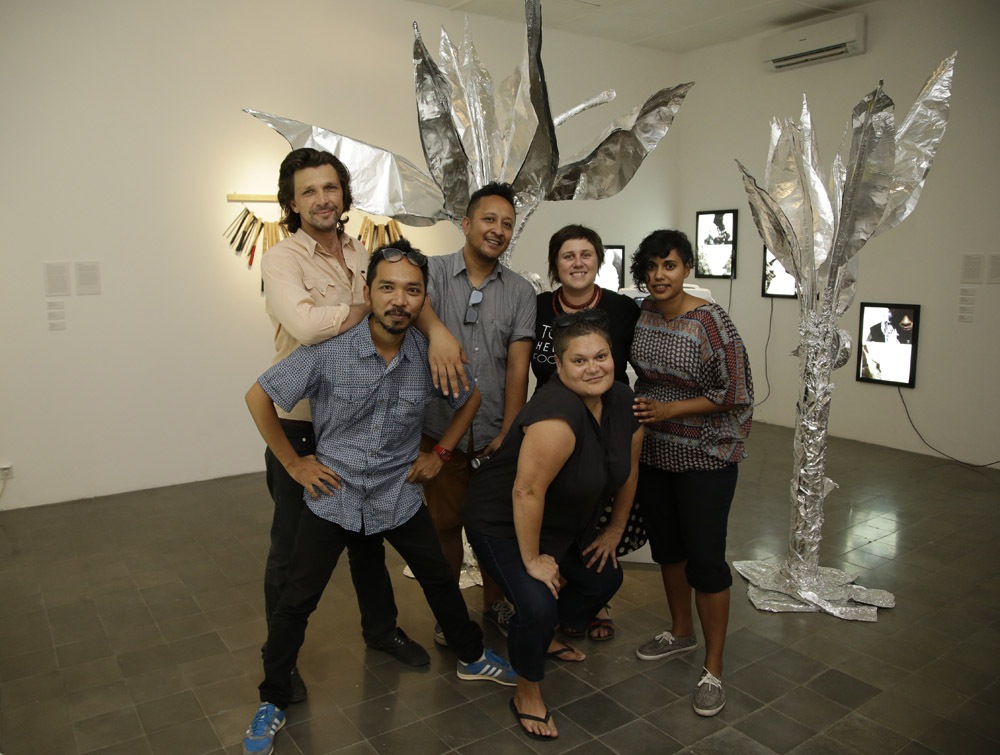 Meleponi Pasifika is now on display at iCAN Yogyakarta.
Meleponi Pasifika features multidisciplinary works by emerging contemporary artists from the Pacific region, who are currently living and working in Melbourne, Australia. The exhibition is on at iCAN, Jl Suryodiningratan 29, Suryodinigratan, until 27 June. Further information on Meleponi Pasifika is available at: http://footscrayarts.com/event/FCACheartsJogja-meleponi-pasifika/
The Australian Embassy's Arts and Cultural Program 2014 runs from March through to November and includes concerts, visual art exhibitions, dance, literature, fashion, sport and a science and innovation roadshow. The program also includes arts residencies and exchanges involving artists from both countries.
The Arts and Cultural Program 2014 is supported by the Australian Government through the Australian International Cultural Council, an initiative of the Department of Foreign Affairs and Trade.
The Arts and Cultural Program 2014 is generously supported by the ANZ Bank, the Australia-Indonesia Institute, Queensland University of Technology, Curtin University, Deakin University, Ernst and Young, Flinders University, Macquarie University, the University of New South Wales, the University of Queensland and the University of Tasmania.
Media Enquiries:
Vicki Miller, First Secretary (Cultural) tel. (021) 2550 5260 mob. 0811 959 0304